Digital Door Locks Make Homes More Secure
01/11/2017
Back To Blog
The advancements in the field of technology have greatly benefited the residential and commercial security sector. You would be delighted to know that there are a number of companies that are manufacturing state of the art digital locks that can be installed on door handles and door levers, to provide a high quality security option for homeowners. Digital door locks epitomize high security door locks and can be availed at a moderately reasonable price. They are no longer the ultra luxury goods that they were once considered to be.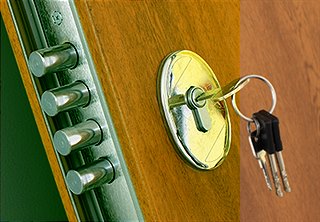 Coded Digital Locks
What sets a digital lock apart from the rest of the options is the fact that its security system is completely computerized. The system is based on confirmation techniques which are most suitable for the users who have to deal with it on a regular basis. For instance, the lock can be unlocked by inserting specific codes on a keypad. You can think of a digital lock as one of the most advanced forms of an auto lock available on the market. Until and unless the specific code has been typed in, the lock cannot be opened. Therefore, the possibility of intruders being able to guess the code is negligible to say the least. The codes can be changed periodically so that they are not given away to unwanted people accidentally.
Digital Card Locking System
Some houses have a digital card locking system. You may have seen one in a hotel, as this is the most preferred door locking system in lodging facilities. The reason why this particular system has gained so much popularity in the hotel business is because of how convenient and flexible it is. There are no codes involved. As long as you have a card that is programmed to open the lock, you can gain access to the room. If you think about it, it is quite similar to having multiple keys that can unlock your door. Each member of your family can have a card that grants them access to the main entrance of your home. There can be specific cards for individual bedrooms to restrict entry into those areas. In the event that something goes wrong with the locking system, you can always resort to local locksmith services.
Coming to Terms with Modern Technology
Digital door locks are becoming increasingly popular among people who are looking for flawless and impenetrable security systems for their residence. Many of these systems are connected to an alarm that alerts the user in the event of an attempted break in. If you are not comfortable with modern technology and are afraid of a house lockout, then you can consult a locksmith service to gain in depth knowledge about operating these security systems.